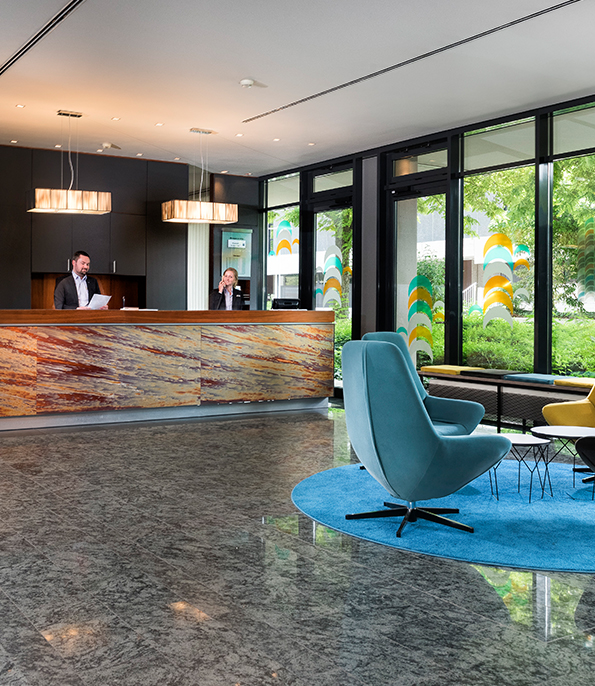 Your Dorint Hotel An der Kongresshalle Augsburg
Come with us high up in Augsburg!
Our hotel tower is a modern hotel for meetings, seminars & conferences. However, family celebrations, weddings or relaxed city breaks can be enjoyed just as well with us.
Our event areas on the first floor or on the 34th floor with an impressive view provide an unforgettable experience for up to 300 people. The Hotelturm is a modern hotel for meetings, seminars & conferences as well as family celebrations, weddings or for a relaxing city break. Make yourself comfortable with us: 184 fully air-conditioned rooms and suites are available for your stay.
Imhofstraße 12, 86159 Augsburg
Telephone: +49 821 5974-0
Fax: +49 821 5974-100
Email: info.augsburg(at)dorint.com
Reservation center Augsburg:
Reserve now!
City center
1,8 km
Central Station
1,4 km
Airport
17,2 km
Welcome
Explore the possibilities of Augsburg with us: Our 4-star superior hotel is only a few minutes walk from the old town and the world-famous Augsburger Puppenkiste. Enjoy the UNESCO World Heritage Site of Augsburg's historic water supply, the Lech River or the Wertach River during your stay on the Romantic Road or for a sporting visit to FC Augsburg or the Augsburg Panthers.

When may we welcome you here with us? We are looking forward to seeing you!

Your

Benjamin Barth
and the #HotelHelden of the Hotel Dorint an der Kongresshalle Augsburg
StaySafe by Dorint
Bavaria: In Bavaria, the regulations of the 15th Bavarian Infection Protection Measures Ordinance (BayIfSMV) apply. In compliance with the following requirements (as of 12.01.2022), we are allowed to offer the following services:
Tourist overnight stays: we may only accept guests upon presentation of proof of complete vaccination or recovery from the SARS Cov-2 virus (2G).
In the case of mandatory and non-deferrable non-tourist accommodation stays, the 3G+ access rule applies. These guests must either be vaccinated, recovered, or present a negative PCR test no older than 48 hrs at check-in. Every 72 hrs another negative PCR test must be presented. Unfortunately, these guests are not allowed to visit our restaurant and wellness areas.
In addition to the 2G access regulation, an additional closing time of 22.00 - 05.00 hrs applies to our gastronomy. Our bar must remain closed.
For our wellness areas (pools, sauna, fitness studio) the 2G+ access regulation applies. Access is allowed to our guests who are vaccinated or recovered and also present a negative Corona test result, which must not be older than 48 hours for a PCR test and 24 hours for a rapid test.
Events and meetings can take place in compliance with the 2G+ access rules and at a max. capacity utilization of 25%. Participants must be either vaccinated or recovered and additionally provide a negative Corona test result, which must not be older than 48 hours for a PCR test and 24 hours for a rapid test.
Exceptions to access restrictions apply only to persons for whom there is no general vaccination recommendation from the STIKO and persons who are not allowed to be vaccinated for health reasons and who present an appropriate, original written certificate from their doctor that includes their full name and date of birth. These guests must also present a negative Corona test result at check-in, which must not be older than 48 hours for a PCR test and 24 hours for a rapid test.
Persons who have already received a booster vaccination at least 14 days ago are exempt from the 2G+ testing requirement.
Children up to and including 12 years and 3 months of age are generally exempt, and underage students are exempt from 2G-/2G+ access restrictions and mandatory testing upon presentation of their student ID. The exemption from compulsory testing for pupils does not apply during vacations.
We are required to check the appropriate proof and document the checks!
We ask you to adhere to the prescribed distance regulations (min. 1.50 m) at all times. There are several disinfection stations distributed throughout the building. Please use them to disinfect your hands regularly. Wearing an FFP2 mask is mandatory in all public areas and our restaurant.
Due to frequent and very short-term changes of the Bavarian Ministry of State, we do not assume any liability for the correctness and/or completeness of the contents. Please additionally inform yourself on the official website of the state government at: www.stmgp.bayern.de/coronavirus/.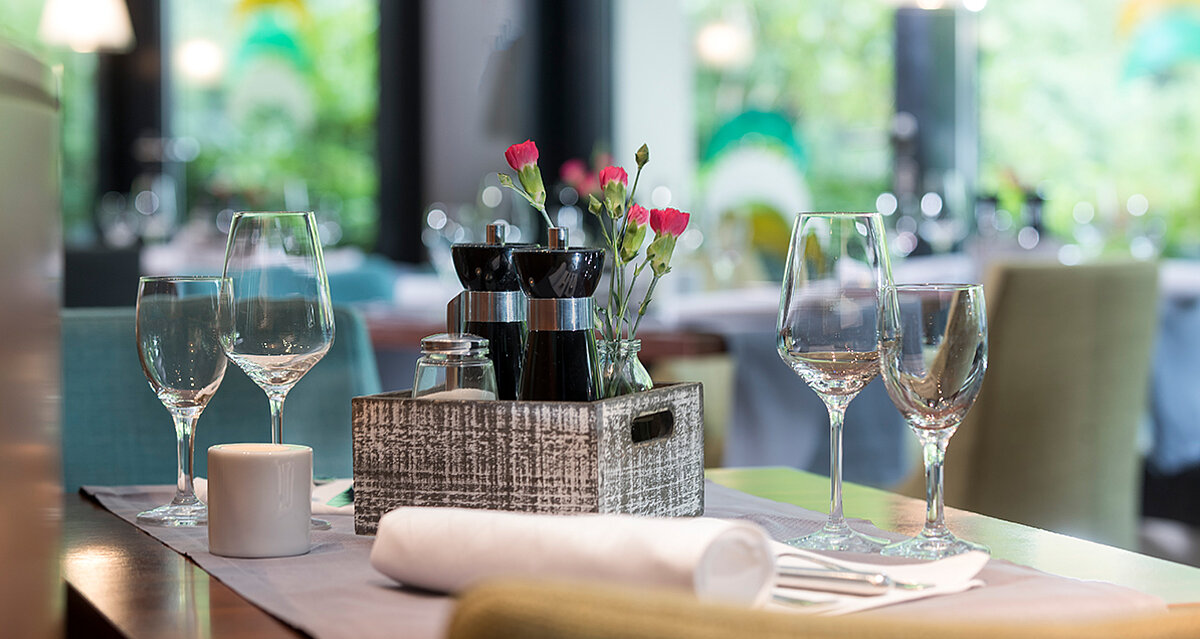 Hotel Dorint An der Kongresshalle Augsburg
Direct connection to the Kongress am Park
First class spa & wellness area
Outstanding view on the 34th floor
Dorint makes dreams come true.
We have the right activity ready for every discoverer and connoisseur: Simply browse through our offers and decide on your favorite experience. With us you will discover a whole new vacation: Make a wish!
Real people, real experience, real emotion.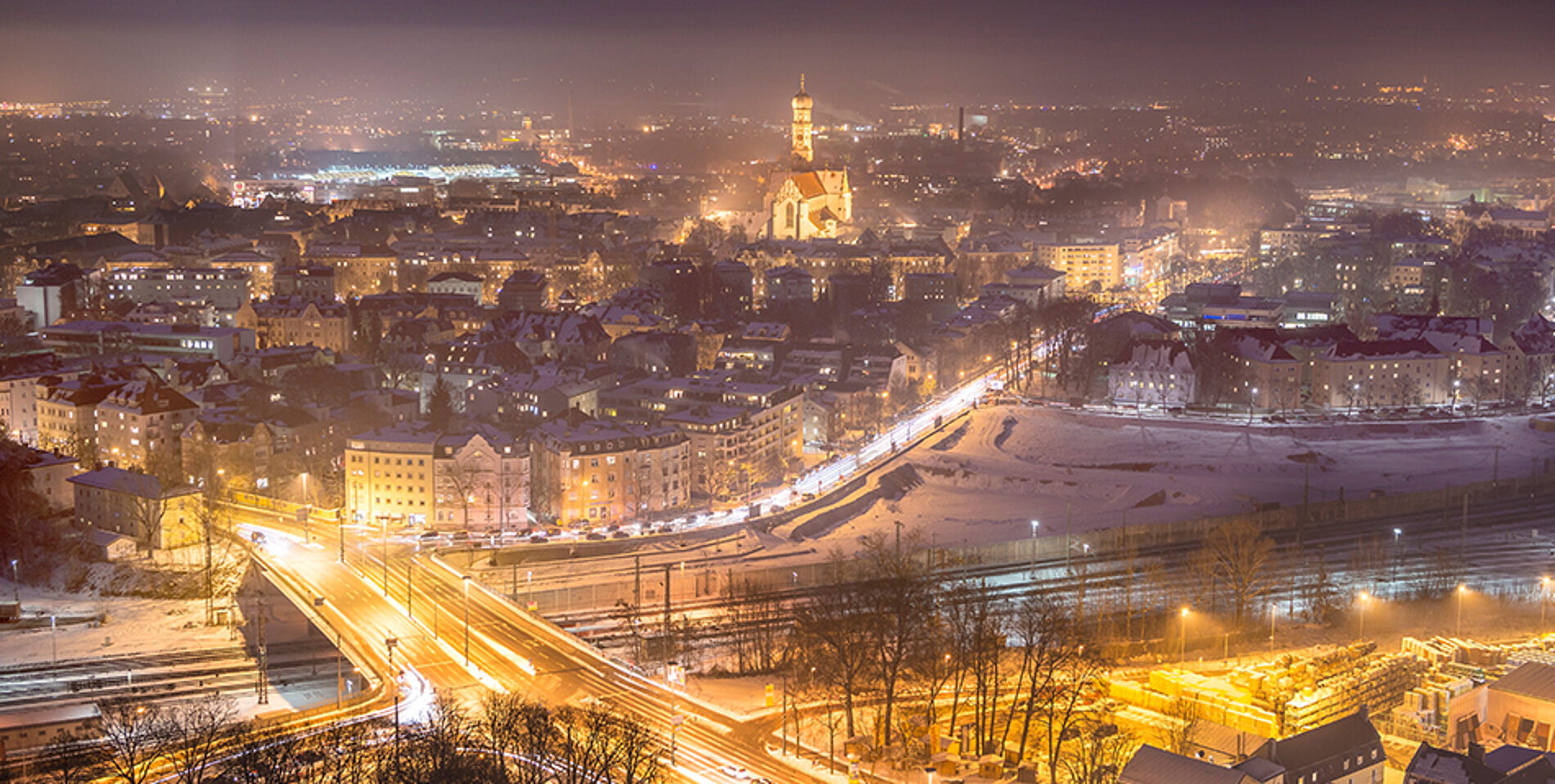 Outstanding view on the 34th floor
Enjoy the stunning view of Augsburg from our hotel on the 34th floor.
Activity
Relaxation
Family time!
Enjoyment
Culture
nature
This business is a franchisee of Dorint GmbH and is managed independently, in its own name and for its own account, by the respective operating company:

Dorint An der Kongresshalle Augsburg
Hotels by HR Augsburg GmbH, Location: Berlin
Hauptstrasse 66 - 12159 Berlin
Registry court: Charlottenburg Local Court, HRB 176511 B
Managing directors: Michael Klinger and Markus Lewe
VAT ID No.: DE 306643367